Sing and Play 2011-2012
Hexham, Northumberland
Please note this project has ended
Here is an overview of what we got up to at some of our stay and play sessions for families
Monday 3rd September 2012
We enjoyed exploring the djembe drum, ukulele and instruments. We sang a peekaboo song and hid behind our hands.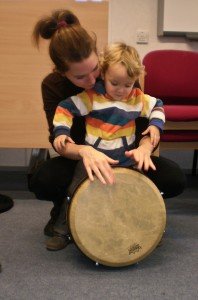 We enjoyed sharing and playing the ukulele and lots of different instruments in our band. We learned a new song called Tony Chestnut which is great fun for parents and carers too. We enjoyed dancing and showing off our moves in some action songs, and relaxed listening to a beautiful French lullaby called Do do bebe.
Monday 3rd December 2012
Monday 17th December 2012
Kate also made a special appearance at two of the SaturDads sessions on:
Saturday 13th October 2012
This was an entirely musical morning, which started with us all playing instruments and being in a band together.  We sang a song called 'Hello everyone' in a round, which is pretty impressive given this is the first time the group had sung this song. We all learned a new song called 'Who's in your house'? There was a comical moment, when one little girl was telling Kate about the five children,  two adults and three pets in her dad's house, and Kate was desperately trying to remember all of the names and working out how to fit them into the song. We got there in the end! We also enjoyed playing instruments and being in the 'band' altogether. This was an entirely musical morning, apart from our well-earned break for bacon sarnies of course.
Saturday 10th November 2012
What was Sing and Play?
Sing and Play was a 20,000 Voices Project, funded by Youth Music, all about spreading the joy of everyday singing in families of children aged 5 and under.  This project took place April 2011 – April 2012.
There were originally three music leaders working with different groups of children, carers and staff to promote joyful, everyday singing in Hexham and West Northumberland.
The team
Management and mentor support:
Anne Suggate is the Song Manager (a cross between an artistic director and a general manager!) for 20,000 Voices and project manager for Sing and Play.  She has many years experience of managing complicated and multi-faceted education projects, as well as singing activities for adults.  She is a skilled vocal leader – and has worked with very young children and primary age children, but now mostly focuses on leading community choirs of adult singers.
Margaret Watchorn is an accomplished fiddle player, who performs all over the north east with her husband. She has vast experience of mentoring and educational consultancy. Margaret has published articles on singing with the under 5s, and has been on national working parties for education. She is also a singing teacher. She was a headteacher before dedicating all of her time to music. She is the mentor on this project and also undertaking evaluation.
The vocal leaders: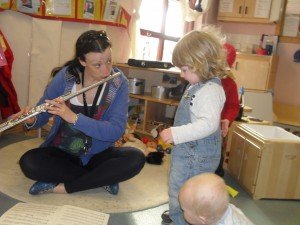 Kate Maines-Beasley is a musical trainer specialising in early years. She is well-known across the region for engaging, fun music-making with families. She has worked in this sector for over ten years. She plays flute and percussion.
Bridie Jackson is a well-known singer-songwriter who performs across the UK. She is also skilled and experienced in early years music-making, leading adult choirs and managing large programmes.
Jane Harland is an experienced vocal leader, who has worked with 20,000 Voices since 2007.
More about Sing and Play:
Sing and Play was funded by Youth Music's Open Programmes, and has been working with young children and their families in West Northumberland.  Our aim was to encourage families to sing together – both for fun and enjoyment and to support and develop their child's potential for learning.
During the summer Kate and Bridie worked on the Play Vans which visited rural locations near Hexham and in the north Tyne valley.  The children enjoyed singing, playing musical games and instruments at each session.  Everyone had lots of fun. At one session, the play leader commented 'all of the children from the village are here'. There were four children! This is how remote these tiny villages are, so these play vans are doing incredible work in very isolated areas.
During the autumn Jane has been working with Falstone and Otterburn Toddler groups – introducing new songs and games, and bringing lots of ideas for the parents to try with their children at home. The adult leaders now have lots of new songs to enjoy with the group, and have more confidence to lead the song time on their own.
Kate worked with the Hexham Stay and Play group throughout the autumn and continued from January to March 2012.  We enjoyed singing in the crèche, in the meeting room and at a residential care home nearby. There was also two very special visits to Hexham Abbey which were very inspiring for everyone.
The team enjoyed excellent CPD days as part of Sing and Play. The most recent was with Sue Nicholls, who gave us all so many brilliant, inspiring ideas which we can all use in our work every day. Thanks Sue!
We also had a fabulous CPD session with Margaret Watchorn earlier in the year.
The photos show how much enjoyment everyone is getting from the sessions;  they are also learning and improving their capacity for learning and socialising.
Here is one of the songs Sue Nicholls reminded us of in her CPD day

Open Shut Them
[audio:https://www.katemb.com/wp-content/uploads/Open-shut-them.mp3]
Download this song to your computer ('right-click' and choose 'save file/link as')
When and where?
The visits are now finished, but were in these groups:
Stay and Play, Hexham Children's Centre, Wednesdays 1 – 3 pm
Otterburn Toddler Group, Otterburn Village Hall, Thursdays 9.30 – 11.30 am
Falstone Toddler Group, Falstone Village Hall, Fridays 9.30 – 11.30 am
We are confident that the adults involved alongside the music leaders will continue to lead the songs and activities they have been enjoying as part of the Sing and Play project.
What has happened in the sessions?
Joyful everyday singing
Games
Musical activities
Live music
Movement play
Ideas to take home
What people said about working with Kate on this project
Testimonials
From a professional point of view, it's something I have gained so much from, every session I jot it all down, and look at the website, to remember it, and I use it all. It has been so valuable it really is something I will use a lot

Parent
I taught in the school next door to the centre. The children who come to your singing sessions have taught their brothers and sisters who can sing in the foundation stage some of the songs that they knew. When I went in, they already knew some of the songs and I asked how they knew the songs and it was from siblings, so it will be their younger siblings teaching them

Parent
I know our practice at Hexham Children's Centre will be better for you having been here

Senior early years practitioner at Hexham Children's Centre