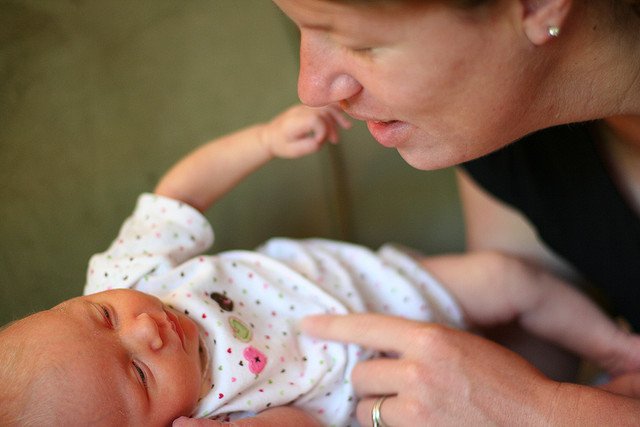 Words:
If it's time to change your nappy, *clap your hands  x 2
If it's time to change your nappy
Leave your botty fresh and happy
If it's time to change your nappy *clap your hands
*change action as you wish: tickle tum, stroke hair, tap feet, whatever your baby or toddler enjoys.
Context:
This uses the tune of 'happy and you know it' and was written by North Tyneside Speech and Language Therapist, Lesley Forrester.  Thanks for sharing this one with us, Lesley.
Singing about changing the nappy before you scoop up a little one to have it changed can help them to understand what is happening before you take them away from their play. This can avoid the loud protests we sometimes have to battle with! Lesley advises you hold a nappy in your hand as you sing the song, so the child can see the object you are singing about. This helps your child to make the connection between the word and object it represents.
Singing is a great way to 'mark' what is happening now and next for your baby. What else could you use this song for? Bath time? Tea time?  Bed time? Have a try and let us know how you get on!
Photo used under Creative Commons License by Flickr user kentandlaura, with thanks.