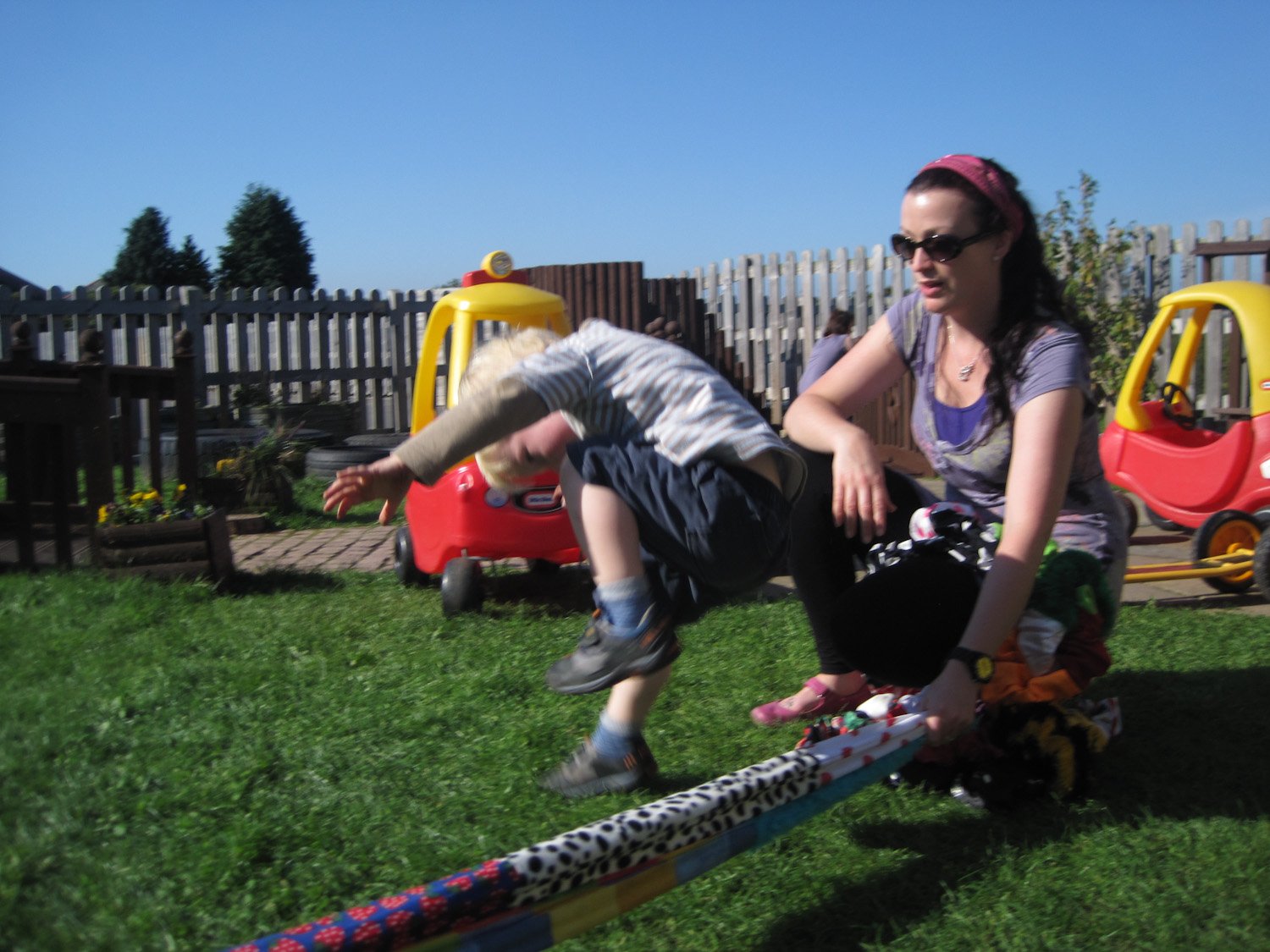 Words for lycra play:
Can you lift the lycra up and down? x 3
Lift it up and down
Can you sway the lycra from side to side? x 3
Sway it from side to side
Can you wiggle and jiggle it very fast? x 3 (sing quicker and move lycra quicker)
Wiggle and jiggle very fast
Can you lift it up high and say 'hello' ? x 3
(you can just sing hello if it is easier, I work with many children not yet talking, so it is nice to leave a space for them to say 'hi' or 'hello' as they spot their friends across the circle)
Lift it up and say 'hello'
Words for scrunchy play:
Can you lift the scrunchy up and down?  x 3
Lift it up and down
Can you wiggle and jiggle it just like this? x 3
What shall we do now?
Context:
Lycra and scrunchy play is great fun and also a brilliant way to support the children's physical development in a smaller indoor area. Make up your own words and follow the children's lead and see where they take you and how they would like to move. You may need to set some boundaries before beginning this sort of play, and keep the numbers smaller where possible, so there are more opportunities for each child to move in the ways they would like to.
Working with the lycra and scrunchy has been a major part of the More Tuneful Tots & Bouncin' Bairns music project. There are lots of other songs on the songbank to support this work. Try:  Lycra song (coming round the mountain), Let's go in the ring , In the scrunchy ring, Swing me over the water, Stretch it out a little, Pass the scrunchy round and round to get you started!
See some top tips for movement play here.
It was Wendy Hughes who adapted this one, many years ago when we worked together at The Sage Gateshead. This is a great tune to adapt, and make up new words to.
Photo by Hexham Children's Centre.